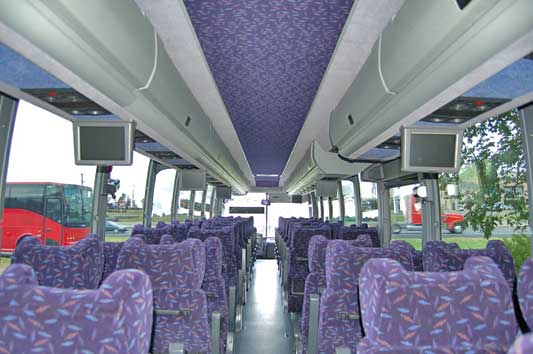 Planning a wedding is a stressful undertaking, let Prosperity Charter Bus Fort Wayne remove some of the potential headaches with our efficient transportation options. Our reliable customer service will put you and your guests first, ensuring that you don't have to worry about guests not arriving when and where they need to be.
We can meet all your wedding bus rental needs whether you need transportation for a bridal shower, engagement party, bachelor and bachelorette parties, as well as wedding day transport. Our bus charter in Fort Wayne, Indiana will professionally solve all your wedding transportation needs.
A Stress-Free Experience for Your Wedding Guests
If you have guests coming in from out-of-town, allow us to remove their worries and make their attendance at your wedding all the more enjoyable with our professional bus service. We can collect your guests from Fort Wayne International Airport, so they don't have to worry about finding their way around an unfamiliar city. Impress them and make their wedding experience all the more special with our private luxurious wedding bus rental.
Save your guests from worrying about an expensive fare, driving long distances, or designated drivers. We can collect your wedding guests from their hotel getting them to your wedding venue at the allotted time. Move them from one venue to another in accordance with your strict wedding day schedule. Then collect them again at the end of the night, returning them safely to their hotel.
Have your friends and family ride in a luxury minibus to your venue and bring your photographer along to take candid photos on the journey. Perhaps, stop off at suitable locations for wedding portraits before you arrive at your reception venue. Our service will allow your guests to enjoy drinks and snacks as they are shuttled between venues. Then when they are ready to return home or to their hotel they don't need to worry about a DUI thanks to our service.
Your party can enjoy your wedding day and the events leading up to it, without the worry of traffic congestion, finding their way to the venue, and safely parking their vehicle. Let them avoid the hassle of public transport, car rental or getting a taxi or Uber.
Don't let a bad transportation situation mar your guest's enjoyment of your special day. You and your guests should be able to focus on the more pleasant parts of the day, not having to worry about transportation. Our fully licensed and experienced drivers will ensure your guests arrive safely and on time.
Personalized Wedding Charter
We will provide you with a personalized service to meet your specific and detailed requirements. We have a range of different buses to meet your transportation needs. We have a fleet of modern, stylish minibuses and coaches available so we can shuttle you and your guests to where they need to be.
Plan Your Big Day's Transportation With Prosperity Charter Bus Fort Wayne
Make your reservation with our customer service specialists to ensure a smooth and stress-free wedding in Fort Wayne, Indiana. Allow us to create a personalized and no-obligation quote, for you today. Contact us now to make sure your wedding day transportation is taken care of by professionals.